PROJECTS
Sea Island - Sea Island, GA
Sea Island features five miles of private beach, a Beach Club, tennis and squash centers, Yacht Club, Shooting School, and Camp Cloister. We designed and built custom beach service huts, waste bins, towel returns and various host stands for a uniform, on-brand look and feel for this one of a kind four Forbes Five-Star winner (10 years in a row). The featured project is the CleanStation72 a response to the Covid-19 Pandemic.
Alys Beach, FL
Delivered in Nov. 2020 the furniture and equipment we built for Alys Beach was using the Kebony® Clear wood that will naturally develop a driftwood gray patina once exposed to the elements. The project consists of host stands, mobile beverage carts on casters, waste and towel bins. Located on beautiful 30A, nestled in the Florida Panhandle's with pristine white sands and uninterrupted views of the Gulf's sparkling blue water this is such a beautiful project.
1 Hotel & Homes - Miami Beach, FL
We love the 1 Hotel & homes! We finally got the opportunity to do a truly reclaimed wood project!. Working with the designers at the 1 Hotel & homes we have come up with a line of custom-made products for the beach, the private beach club,  and the pool decks. Sourcing old fences, wood trusses, docks, pallets for years finally paid off, and we could provide a truly locally reclaimed product.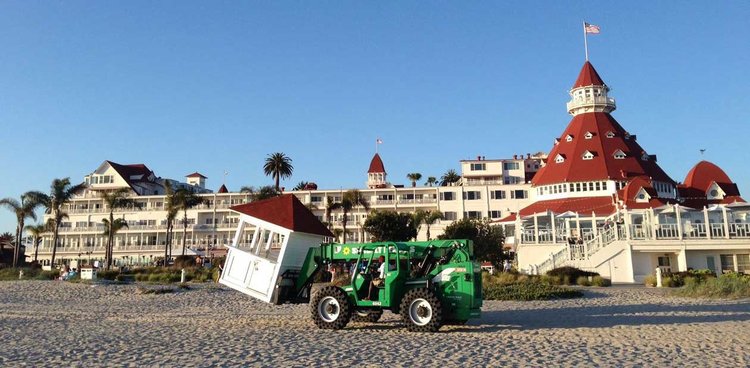 Del Coronado Hotel - San Diego, CA
The legendary Coronado Hotel is located just outside San Diego, in the small town of Coronado. Together with Boucher Brothers Management we designed and built beach huts, towel and trash bins, and storage huts for a full service beach setup. A truly exiting project where we got to work in the late queen Anne style incorporating the architectural style of "The Del".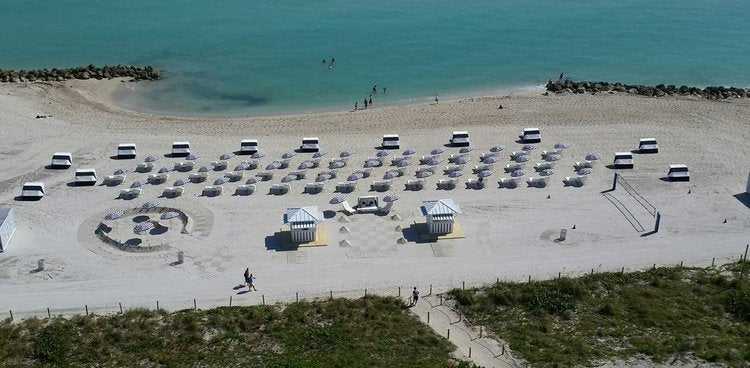 The Edition - Miami Beach, Florida
The Edition is game changer Ian Shraeger's return to South Beach. A  luxury hotel in Miami Beach comprised of 294 individually designed guest rooms and suites, including 28 private bungalows and a spectacular rooftop penthouse designed by. Perhaps the most beautiful outdoor area on the beach, this project is setting a new standard for outdoor design. We were super exited to design, build and install the turn-key beach huts with custom interior and built in solar to power WIFI and point of sale systems.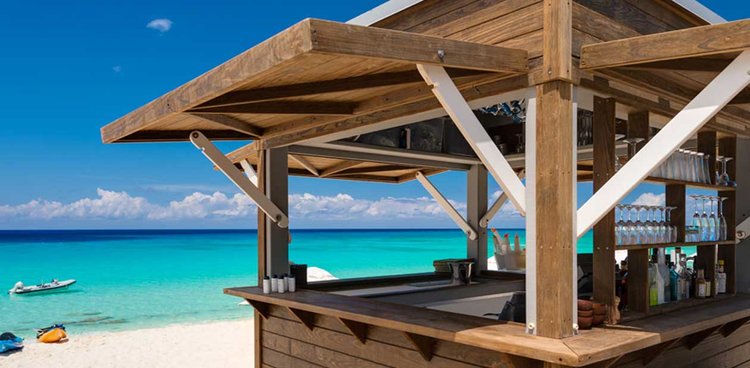 Amanyara - Turks & Caicos
Amanyara is an unsurpassed luxury resort in Providenciales, Turks & Caicos. We designed, built and installed a custom beach hut, surfboard & SUP rack and a matching set of towel and trash bins. The equipment was built in our shop in Miami and transported to the site in a shipping container. The wood used was Kebony, a fantastic eco alternative to using tropical hardwood, not forgetting that Kebony requires no maintenance and comes with a manufacturers rot and moisture damage warranty of 30 years.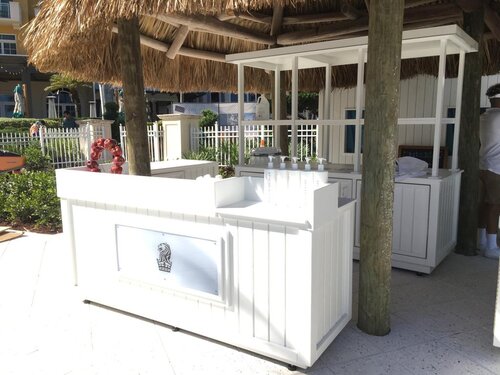 Ritz Carlton Key Biscayne, Miami
This property did a major pool renovation in 2019 and CustomBeach supplied a complete set of outdoor hospitality solutions including host stands, towel carts, waste bins, retail stands and more. This beautiful resort sits along the coast of Key Biscayne's five-mile barrier island, attracting families, couples, golfers, spa-goers, culinary enthusiasts and meeting planners with its secluded but convenient location and array of offerings.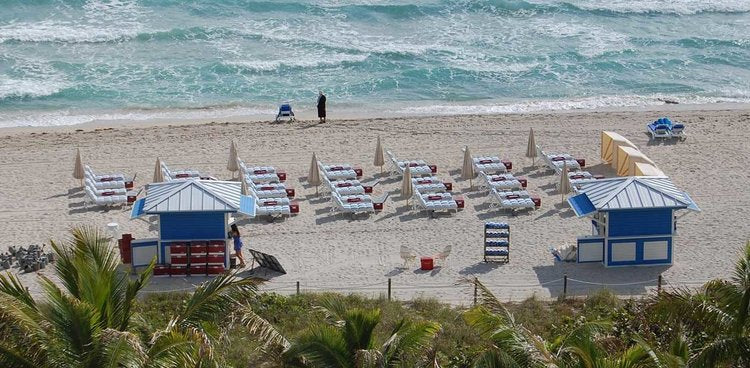 Soho House Miami - Miami Beach, FL
Soho Beach House is a private members club, hotel and spa located on the historic site of the Sovereign Hotel on Miami Beach. The original site has been entirely redesigned and expanded to include a 16-story oceanfront tower. Soho House was founded in London, in 1995, as a private members' club for those in film, media and creative industries.
The Thompson - Miami Beach, FL
The Thompson is bringing back the days of the Magic City. Their entire south beach brand is centered around the "original" Miami Beach of the 50's and 60's. Our studies for developing beach, valet and pool equipment for the Thompson included binge watching "Magic City" on Netflix. The concept we went with was a faux/crackled finish with overhanging eaves, stepped/rounded corners and a mix of bicycle wheels and aged teak. At the Thompson's 1930's house, you'll find the best drinks in Miami!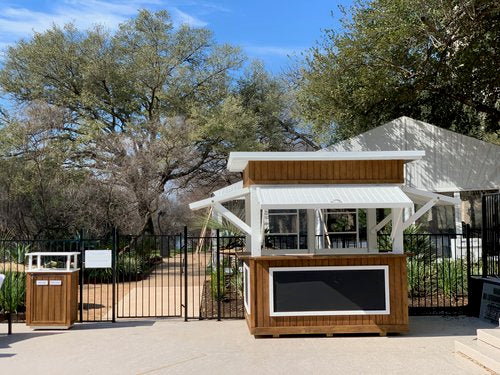 Four Seasons, Austin Texas
"Austin's particular brand of cool is evident in every detail of our downtown Hotel, from local art to Texas-inspired spa treatments." was the catchphrase to capture for this custom project for Four Season Austin. This project was delivered in February 2020, and included a pool service hut, towel valet, towel return and waste/recycling bins in wood stained T1-11 finish. All items were completed in Miami, wrapped & palletized and shipped to Austin for a 1 day installation.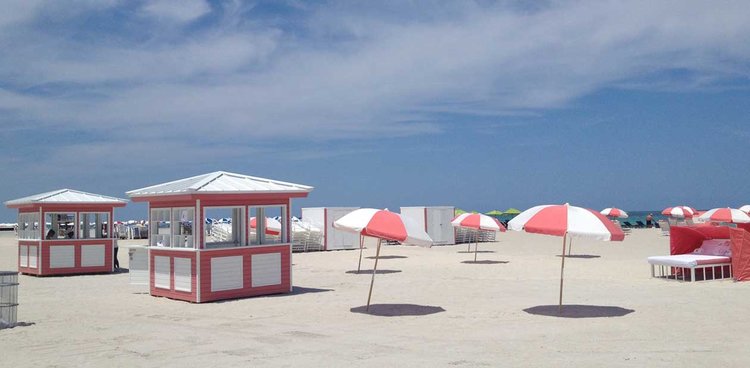 SLS Hotel - Miami Beach, FL
SLS Hotel South Beach, a mix of Art Deco glamour and California cool with 140 rooms. Two high-profile restaurants, two celebrity designers, a pair of pools — and a giant version of a rubber duck. A feast for the senses. A creative cocktail of sophistication and playfulness. A hotel with style, luxury and service. From the minds of Sam Nazarian, Philippe Starck, Chef José Andrés and Lenny Kravitz, a surreal boutique luxury hotel journey through Miami, Latin America, Asia and the Mediterranean.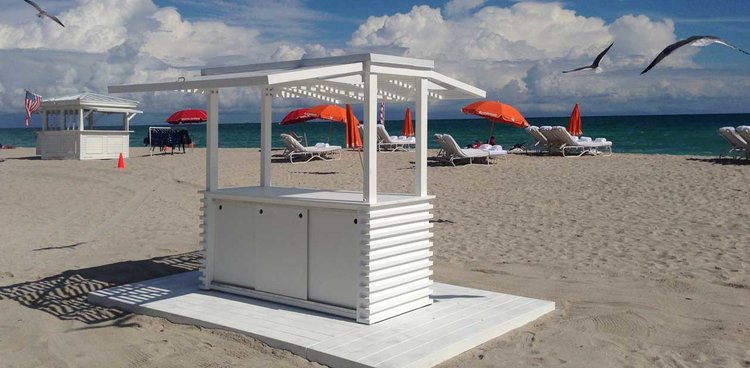 W South Beach - Miami Beach, FL
We went through ten different louver/panelling designs before opting for the horizontal wood panelling for the W beach equipment. We designed and built a set of beach huts for F&B and Greeting huts, a residential Service Station with awnings and a set of towel and trash bins. We installed a 600W solar panel system to power up to three micros terminals, a cell phone/radio charging station and WIFI. We also designing a custom made powder coated hinge system allowing the window to be open without using swing arms.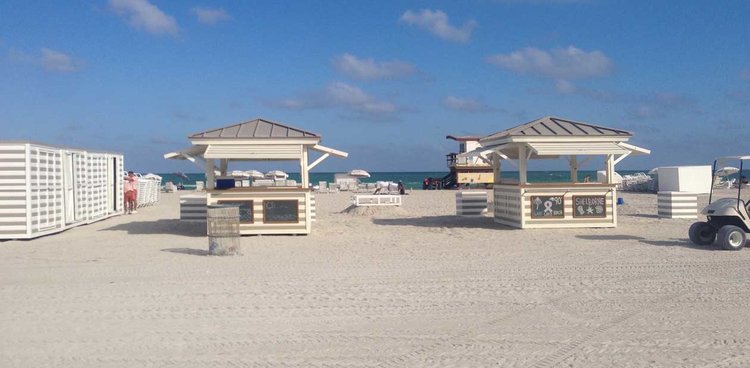 Shelborne Hotel - Miami Beach, FL
Shelborne South Beach Resort Miami is an oceanfront Art Deco landmark in South Florida. The 30-foot deco sign bearing the letter "S" cannot be missed along Collins Avenue.  CustomBeachHuts designed and built two customized beach service huts/cabanas for the grand "re' opening of the resort. We have actually built these beach huts twice. We first built two huts back in 2011, then  we refurbished these beach huts to go with the Shelborne re-desing back in 2014.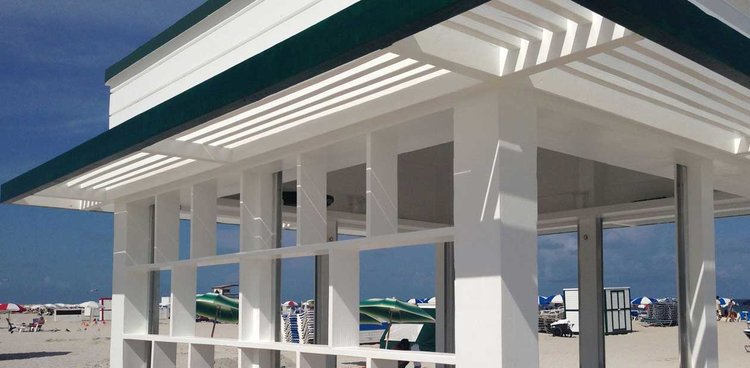 The Surfcomber - Miami Beach, FL
The legendary Surfcomber Hotel is a boutique hotel in the historic art-deco district of South Beach, Miami, Florida. Built in 1948. It was acquired by the Kimpton hotel chain in April 2011 and reopened after a full renovation by Kimpton on December 1, 2011. The hotel is known for throwing some of the biggest and most anticipated pool parties.  We custom designed and built a new custom beach hut, an 8x8 foot storage hut and a set of matching trash and towel bins for the beach service operations.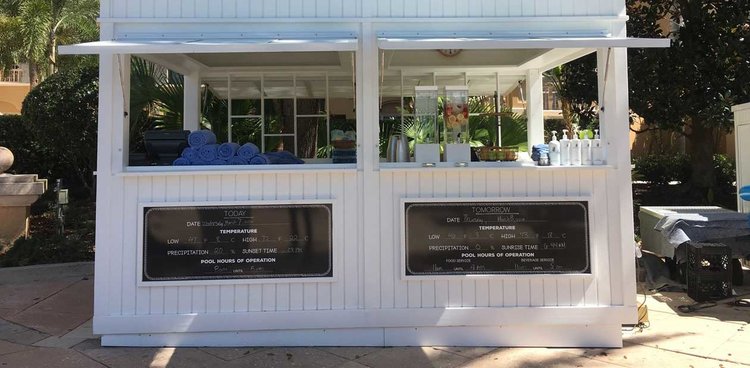 Ritz Carlton - Orlando, FL
We went through a ton of different designs for the Ritz Carlton until settling on a re-design of their previous huts w/ some proportional improvements and a completely new interior layout for the F&B hut. This interior layout actually became the new standard we adopted for all of our F&B layouts. The Ritz Carlton beach serves ALOT of people so the efficiency of the F&B hut is crucial. They require three POS stations to operate at any given time.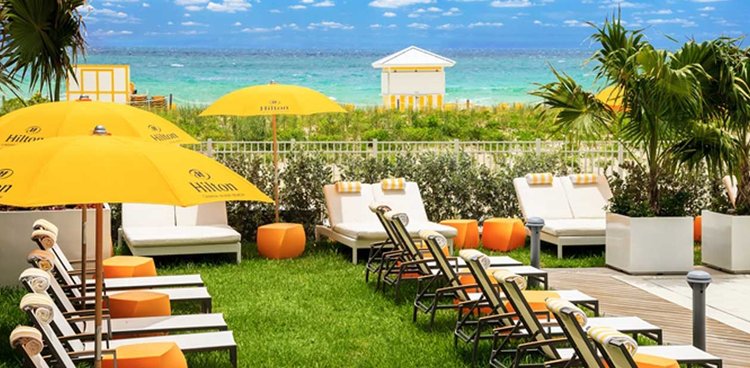 Hilton Cabana - Miami Beach, FL
Hilton Cabana Miami Beach is a newly built oceanfront hotel which debuted in June 2014. This upscale, MiMo style ten-story hotel is located on famous Collins Avenue at 63rd Street, 4 miles north of South Beach, and includes Cabana-style buildings and 119 feet of beachfront property offering direct access to the Atlantic Ocean. The Hilton Cabana opted for some super fresh yellow and white striped theme for the beach equipment.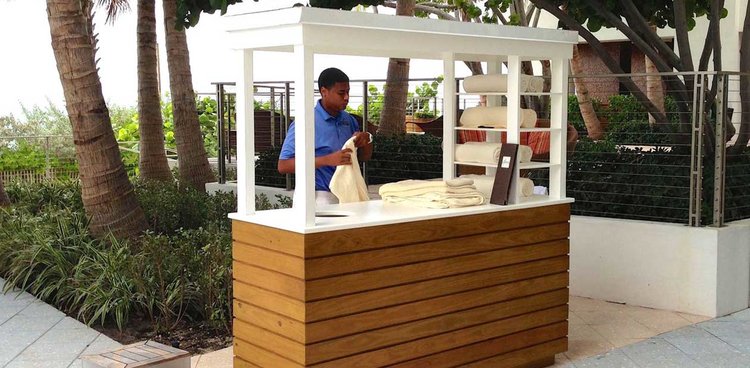 Carillon - Miami Beach, FL
We designed and build a series of different service stations for the Canyon Ranch in 2013. The stations function as hostess/service stands and allows the hotel to provide a higher level of service to their guest and residents. As part of the rebounding of the property we also designed and built an entirely new beach fascitlity, with beach huts, storage huts, storage boxes, trash and towel bins, solar installation for POS and WiFi and a series of beach utility carts.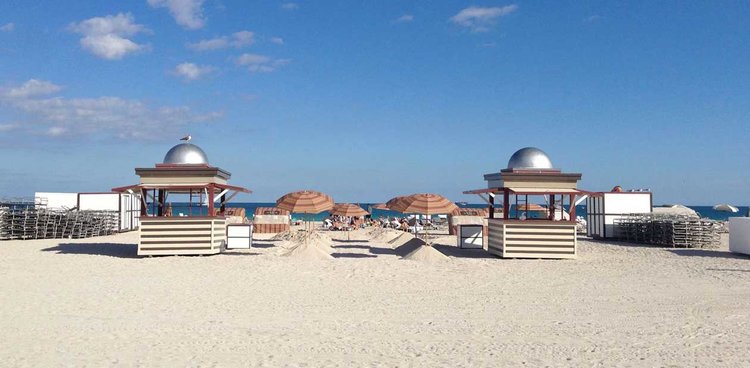 The National - Miami Beach, FL
The iconic National hotels is one of Miami's most iconic hotels. Fully restored in 2014, the hotel was recognized by "Historic Hotels of America" for maintaining its architectural authenticity and sense of place, while bringing subtle and sophisticated elements of contemporary design for the discerning traveler. The color scheme of the National beach huts are from the hotels lobby. The "silver" dome is a homage to the hotel architecture.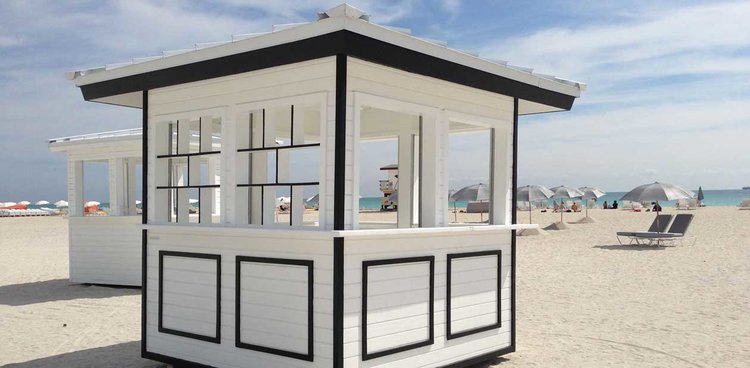 The Raleigh - Miami Beach, FL
The Raleigh beach hut is a classic miami beach hut design with aluminum standing seam roof, vertical sliding window panels, display shelving. The sliding vertical windows are made of Starboard®, a marine grade plastic product originally developed for the boat industry. The beach hut's  black contrast lines are inspired by the hotels interior. It's always a goal for us to extend the hotels boutique look, feel and guest experience down the pool and beach to add to that sense of belonging you have when visiting a hotel.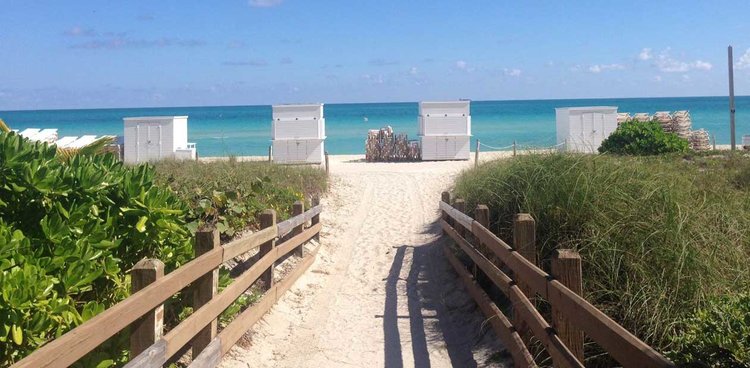 Metropolitan by Como - Miami Beach, FL
An Art Deco luxury design hotel, Metropolitan by COMO, Miami Beach is a 74-room Miami hotel in the heart of the Miami Beach historic district, overlooking America's most iconic beach. Metropolitan Miami Beach delivers the perfect blend of rest and revelry, urban modernity and period charm by way of light-filled rooms, a COMO Shambhala Urban Escape, and leading edge interiors by the Italian designer, Paola Navone. We worked closely with Paola Navone and her team to make the beach equipment feel just right. 
Other clients include Sheraton Fort Lauderdale, The Raleigh Hotel - South Beach, The Postcard Inn - St. Pete, The James Royal Palm Hotel - South Beach, The Soho House Miami, W South Beach Hotel & Residences, The Surfcomber - Miami Beach, The Canyon Ranch Hotel & Spa - Miami Beach, The SLS South Beach, The Shelborne Hotel - Miami Beach, The Ritz Carlton Hotel - South Beach, The Caribbean Condominium - Miami Beach, The Residences South of Fifth, The Westin Diplomat Resort & Spa, The National Hotel - Miami Beach.